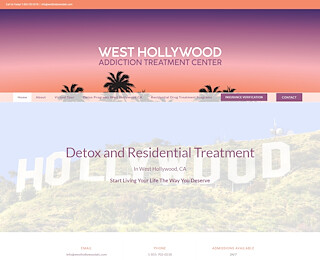 For smooth, safe, and effective rehab in Hollywood, we recommend contacting our rehab professionals immediately. At West Hollywood Addiction Treatment Center, we offer professional medical and psychiatric assistance to people dealing with addiction conditions and co-occurring disorders in a supportive environment.
Is detox painful?
The detox process will involve some form of physical and mental discomfort, at least in the initial days of the treatment. The detoxification treatment usually lasts up to a week or two in worst-case scenarios, with the withdrawal reaching its peak several days in. The withdrawal's severity usually depends on factors like the substance you're using, addiction's length, etc.
Having a team of experts guiding you in these moments is an invaluable asset as it will ensure the peace of mind and comfort to overcome your problems. Our goal is to make the detox process as comfortable as possible, minimizing the withdrawal's effects, and allowing you the liberty to heal at your own pace. You don't need to fear the detox; fear untreated addiction instead, as its long-term effects are the ones that should scare you.
How addiction rehab works
The rehabilitation treatment is an ongoing process consisting of several phases along the way. These include:
Preliminary medical and psychiatric evaluation – Our professionals will gather key information about your condition, allowing them to provide personalized treatment as a result. This includes providing targeted medication to tapper off withdrawal, manage co-occurring mental disorders, and cleanse the body of toxins and substance-related residues.
Detox and dual diagnosis assistance – The detox procedure consists of medication, therapy, and counseling sessions promoting stability and healing. This treatment prepares you for residential rehab in Hollywood and subsequent treatment programs depending on your progress, needs, and recovery goals.
Residential treatment – The residential program is a time-limited, high-intensity treatment comprising medication management routines, psychotherapy, behavioral therapies, recreational therapies, counseling, and relapse prevention education. The program places you in a controlled, home-like environment, ensuring your comfort, peace of mind, and security throughout the process. The residential treatment is key to sustainable rehabilitation, as it prevents short-term relapse and allows patients to recover in a supportive and non-judgmental setting.
Outpatient programs – Outpatient programs are also a defining component of the rehabilitation treatment, providing patients with long-term management tools to help them prevent relapse and contain their co-occurring disorders. We will recommend top-notch outpatient services via our partners in case you require continuous support and care after completing the inpatient program. This way, you will learn how to care for yourself post-rehab, control your cravings, and avoid social triggers in the long run.
Our rehab in Hollywood will allow you to regain control over your life and adopt a healthier lifestyle after treatment. If you're interested in our rehabilitation and recovery services, we advise you to contact one of our rehab experts for answers.
You can contact West Hollywood Addiction Treatment Center today, make an appointment, and arrive at our rehabilitation center for treatment and clinical assistance. Join our detox and treatment program and quit addiction today!
West Hollywood ATC
855-622-6723
9024 Harratt St.
West Hollywood
CA
90069
US